May 22 2011
1
22
/

05
/

May
/

2011
22:17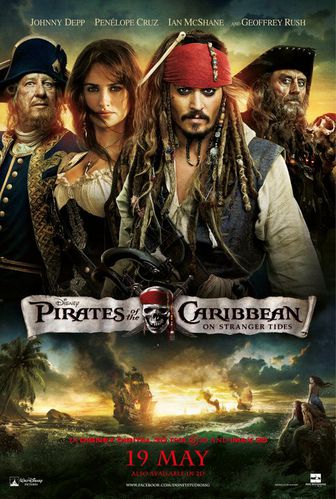 I was not so excited to go see Pirates of the Caribbean 4, because:
1) I had been much disappointed by Pirates of the Caribbean 3 (At World's End), which I'd found very slow, very long, and most of all very plotless,
2) Orlando Bloom isn't in Pirates 4, so it was kind of a "what's the point?" film
3) Same with Keira Knightley
4) The whole "this is the fourth installment" thing sounded more like a cash register machine than like a nice, fresh film.
In all of this, I was wrong. For one thing, there is barely any connection with / reminder of the third film, which is good because even the producers seem to have realized that film was garbage.
For another, the absence of Orlando Bloom & Keira Knightley is easily forgotten by Johnny Depp's presence and a very nice set of second roles. Geoffrey Rush is better than ever in a more central role, while Penélope Cruz & Ian McShane are up to standards and bring freshness to the film.
Thirdly, the supernatural additions, i.e. the mermaids, are both sufficiently known of by the general public (thanks to Walt Disney's Little Mermaid), hence credible, and really well represented visually (great special effects). BTW, I loved the mermaid / clergyman bit. The Fountain of Youth is also a generalized legend which is easily believable. We're far from the sea-slug-faced Pirates or the weird crabs from Pirates 2 & 3.
Additionally, I loved seeing Richard Griffiths, i.e. Vernon Dursley in the Harry Potter series, even for a few minutes.
And finally, thank you for a beautiful & useful 3D. You can tell the movie was filmed in 3D and that's the only films one should go see in 3D.
A very nice surprise.