February 13 2011
1
13
/

02
/

February
/

2011
20:15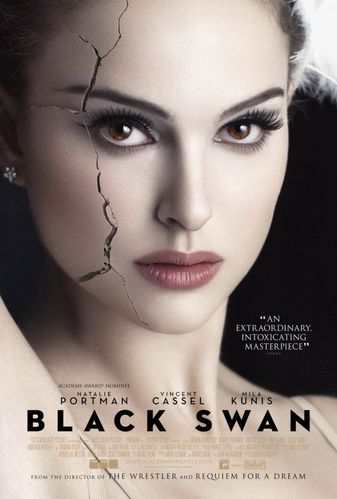 Disturbing, slightly crazy, in and off reality, sublime... These attributes are both for the film and its lead actress, Natalie Portman.
As usual, Natalie Portman is perfect. But with this film, her talent is even more impressive and amazing, because Nina is a very, very, very disturbed character.
As usual when N. Portman in acting, I'm swept in the story. But I knew this film would give me the creeps, and because I've become familiar with Nathalie Portman's films (I think I've seen but one or two of them) I got even more scared. Not scared in a "yelling my lungs out" way, but scared in a "I'm uneasy" way.
In the film we follow Nina, a lead Ballet dancer who sinks into a schizophrenic crisis when having to dance two opposite characters: the White Swan, a candid and sweet girl, not unlike Nina's own personality, and the Black Swan, a seductive and powerful woman. Lack of food, competition, long hours training, difficulty in understanding, letting go and dancing the Black Swan part lead Nina into delirium. We're constantly on our toes, not knowing what's true and what's not: the directing is amazing in this way. I must also add that the special effects, though definitely not perfect, were definitely not rushed, either.
In short, it's a very good film, but it's a disturbing one.
I think it's safe to say that the Oscar in clearly in Natalie Portman's pocket. And she absolutely and undeniably deserves it.