January 25 2011
3
25
/

01
/

January
/

2011
22:52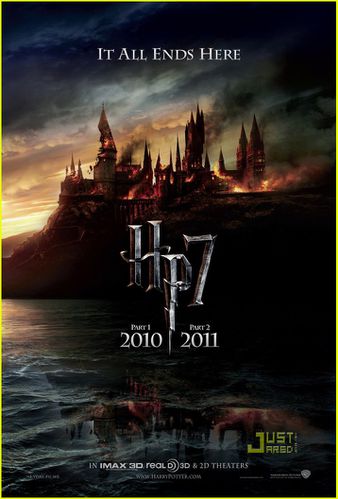 I wanted to see HPDH Part 1 twice before I wrote my review.
I saw it first at midnight the day it went out, and this remains one of the best cinema experiences I've had so far. The atmosphere was absolutely incredible: eerie, cheery, full of emotion... Everyone in the 800-seat room was here for one reason: see how they did it. Because everyone had read the book, everyone knew what was going to happen, we only needed to see how they had managed to turn a truly epic book into a film.
HPDH Part I is a success on many levels:
- First of all, I'm not disappointed. Except for the Prisoner of Azkaban, which up until now I found was the only film which didn't betray the eponymous book, I've been disappointed each and every time. It's become sort of a joke, I always went to see the next film knowing I was going to hurt later because they would have done everything wrong. The best example of this phenomenon is the Order of the Phoenix, a book I love and a film I don't understand. The book is built around several axes: the trio going through the beginning of their adolescence crisis, Harry loosing another close one, Harry feeling helpless, observed and used for the first time, the trio experiencing jealousy and discovering what a first love is, the prophecy, and the Order. In the film, they selected the one part that was ever so subtly written -the first love part- and they trashed it entirely, making it the one topic of the film while the War was begining to rage on, the prophecy was a key part and I had been swept in Harry's situation while reading it. They had turned a magnificently written book into a dumb teenage movie. I'll never forgive them for that. But enough about OOTP, the HPDH Part I film is up to the book standards and mine.
- Second of all, though they added a few scenes, for once I didn't take these bad. I thought they were precisely what the film needed to carry the books' depth without loosing too much time. I particularly loved the Harry & Hermione added scene, though surprising at first.
- Third of all, great soundtrack. I was afraid of another Order of the Phoenix mistake, but this one's as good as the others.
- Fourth of all, incredible suspense! That Godric Hollow's scene, so scary and tense in the book, is perfect.The Doe Patronus scene as well. Well, of course, since they follow exactly the book's happenings, no wonder it's just right. It's when they diverge from the book that they get it completely wrong.
- Fifth of all, OMG the special effects are amazing. Voldemort's face's never been clearer and more credible. Really impressed by this.
- Sixth of all, I wouldn't have appreciated it as much if the audience with which I watched they film weren't breathing, laughing, tensing, understanding and appreciating it like a single man. It was incredible. More incredible was my ability to go to work like any other day on 4 hours sleep the next day.
In short, it feels like Jo is behind the camera at all times. What a relief. And thank you.