March 12 2010
6
12
/

03
/

March
/

2010
22:53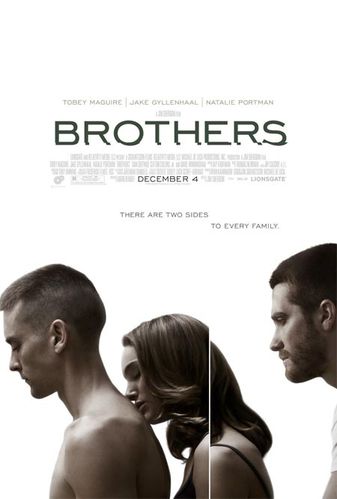 It's been out since the end of February in France (December in the US), so I only just saw it.

Even though you see everything in the trailer, I was still surprised by the end of the movie, and that's a thing I love about movies, when they surprise me.

I hate this new fashion of overlong trailers that show you the whole movie in 50seconds! I much prefer teasers, these 20sec succession of almost still images... They used to do teasers and trailers for the Harry Potter movies, and boy that built the pressure 6 months before the film was out!

Anyway, I'm a huge fan of Natalie Portman, whatever her role she just moves me. I however don't see Jake Gyllenhaal so-called charm at all, and I've always had a credibility issue with Toby McGuire's expressionless face and googly unbliking eyes. Not a done deal, then!

This movie first sounded like a much more dramatic version of Pearl Harbor: Grace (Natalie Portman) is married to Captain Sam Cahill (Toby McGuire) who goes to Afghanistan and dies there. In her mourning she gets close to his brother, Tommy (Jake Gyllenhaal), and some relationship develops between them two. But the husband was not dead and comes back to see his wife and his brother having a thing for one another. To top it all, he was a prisoner of the ruthless Talibans who used psychological as well as physical torture on him for a months. No wonder he gets mad at everyone and in particular his wife when he gets back.

Well, Jake was not that bad, even slightly charming in his character's personality (still not attracted to him physically) and Toby was brilliant and credible for once. Naturally, Natalie Portman was perfect.

The rhythm, the twists and turns make this movie interesting and captivating. Go for it!