March 3 2010
4
03
/

03
/

March
/

2010
20:25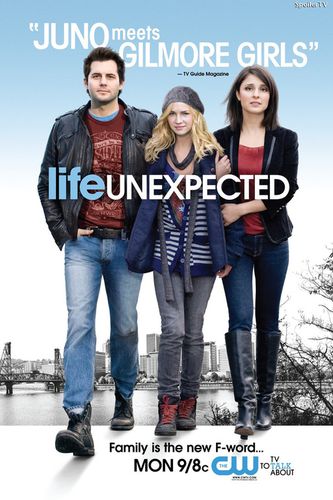 Give a try to this new show: Life Unexpected, if only to see Kerr Smith & Shiri Appleby! It has the Summerland plotline, only without the surfing (a shame, IMO) nor the dead parents.
This kid, Lux (probably standing for LifeUneXpected, although it does mean Light in Latin as they say so in the show), was given up for adoption 15 years ago by her teenage mother. She comes back to her biological parents' life for administrative reasons: she wants to be emancipated. Only the judge doesn't grant her emancipation but gives custody to her biological parents, both 30 and in no way experienced to raise a teenager.
Because of a heart condition she was never adopted. Indeed, in the US they do have this crappy social insurance (or rather, lack of such) which would mean, for any adopting parents, extensive bills (dozens of thousands of dollars, if not hundreds) to pay for surgery when she was a baby. And when her condition was solved, she was too old hence less atractive to prospective parents.
Anyway, long story short, her dad learns of her existence when she knocks on his door to sign the papers, and her mom is scandalized that she was never adopted but given to foster care, and takes her in with her arms wide open.
I like those TV shows where everyone's adorable and no one is ever really mean. It's a pastime at the moment, I'm not that hooked, but I'm giving it a chance.
As it is a CW show (Gossip Girl, One Tree Hill...) I'm not very confident to where it's gonna head, but although I dropped Gossip Girl after 2 seasons, I watched 6 whole seasons of One Tree Hill, and all of Gilmore Girls, so, you never know!