September 12 2009
7
12
/

09
/

September
/

2009
00:28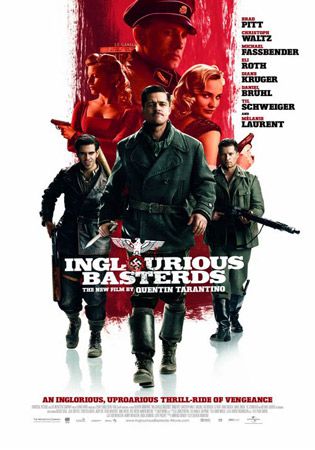 I'm just back from the cinema where I saw Inglourious Basterds, the latest piece by Tarantino. I wasn't disappointed, I really liked the whole movie. Two words are enough to describe the 2:30 hours the film contains: Politically Incorrect.

It's really funny, but at the same time I couldn't help wondering:
- Should they joke about this?
- Should they joke about this?
- But then, when will time ever be right to start doing so? And who could?
- Were the SS really at ease with what they were doing, as the Super SS captain or whatever his rank is seems to be?
- Are we allowed to joke about the Nazis, the Jews hunt?

I genuinely adored Brad Pitt in his role, I daresay I've never seen any character fit him that perfectly. He was the man for the job (and I'm usually not a Brad Pitt fan.)
Then the Super SS guy (Colonel Hans Landa, played by Christoph Waltz) was funny but with a really creepy sense of humour. It's a weird feeling, you're laughing at his joke and in a split second you realise the gravity of his words. Gave me shivers.

There's also, of course, a good dose of violence and action as is the case, I think, in all of Tarantino's movies. I reckon he's created a genre by himself, he alone can go that far without turning into a hopeless anarchist. No wonder the French love him so much, he's got the revolutionary fibre and the class (that many lack) to convey his message.
The second roles were also very well chosen and acted. The tension, in this film, is really palpable, both thanks to the music but also the actors (and, I suspect, QT's directions). It gives depth and realism to all the characters. We understand their position, dilemmas, etc... A masterpiece.

In short: politically incorrect, hilarious and entertaining.