February 25 2010
5
25
/

02
/

February
/

2010
01:21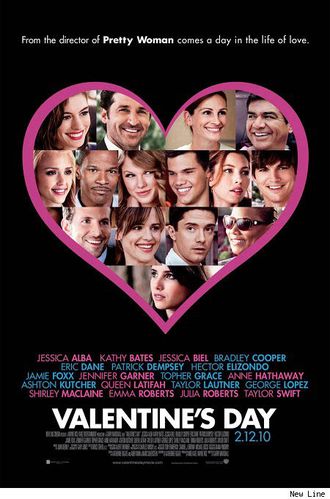 When I first saw the trailer a few months ago, all I could think was "Oh my gosh, this is gonna be SO great!". However, a few weeks ago I began to hear one description for this movie very often "This is the American Love Actually". And that was it. No hopes, no expectations, no will to see the movie any more. The reason is simple: Love Actually is, and will always be, the cream of the romantic comedies (in my opinion, anyway), and anything that is said to equal it will irrevocably fall into the abyss of the pale copies, and/or obvious plagiarism.

Love Actually, a movie I watch every single year around Christmas time, and generally once or twice at some other time during the year, will never get down the pedestal I put it on. So when I heard that Valentine's Day was just like Love Actually, only American, I was
1) disgusted at America's shameless attempt to take some non-American concept and make it American,
2) silently laughing my ass off when imagining the extent of the failure they (the American team) were facing,
3) not at all in the "can't wait mood".

So I went free of expectations, and I giggled, and I laughed, and I even shed a single tear. To be honest I also exhaled at the two gorgeous naked torsos displayed. I've noticed in the past months an increase in male nudity and a decrease in female one... Are we women becoming shallow, or less ashamed of their appreciation of the male body? Obviously a rhetorical question.

Because it had been compared to another movie, I noticed the big differences between the ways of expressing love in each country. And my conclusion is: America is so cheesy, and also so materialist, it is scary. I began to understand the financial aspect of romance - and above all Valentine's day - in the US. In Europe (well, at least in France), we won't buy giant bears wearing "I love You" t-shirts, or a heart on legs "Be my valentine". We buy flowers or go to the restaurant. We don't teach the History of Valentine's day to fifth graders (nor do we learn chemistry 101 at this age, for that matter... I was very surprised at this class on neutrons and protons and stuff), we don't buy stuff with little red hearts on them just because it's Valentine's day. It might be because we're not offered the same range and amount of products when it comes to Valentine's day... or is it because there is no demand? Here comes a quote I like very much: "Well, I guess I would say that a circle has no beginning."


Anyway, about the film, since I wasn't expecting anything, I wasn't disappointed nor moved. I spent a nice time, I saw some good actors, heard some appropriate music, laughed at some good jokes. But it's far from being the movie of the century, and it doesn't even play on the same ground as Love Actually's. Sure, they blatantly and shamelessly copied the British concept of the holiday + many characters who are all linked in one way or another + the cute kid in love, but please, it's so shallow and cheesy, no wonder it's such a flop here in France.
The Brits might be our fiercest enemies in terms of war and politics, but we do appreciate their art when it's good. The US is mainly about money, so they either have the brilliant ideas first, or they try and copy them to make them American. It's too bad, I think it kills the diversity by smoothing the angles and sticking to the one American ideals. Think outside the box...


In conclusion: wait for the DVD or the TV broadcast!