February 21 2010
1
21
/

02
/

February
/

2010
12:34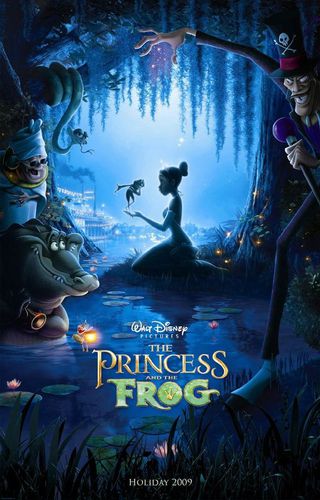 I had the great pleasure of seeing The Princess & the Frog, the last Disney motion picture. It has everything the old Disney movies had: old-ashioned cartoon style, lots of singing, emotion, jokes, scary and caricatured villains, the importance of being good, friendship and love stories, talking animals, scary animals that are in fact funny and sweet... even the famous Disney bow was there!
Set in New Orleans in the 1920s, it is the story of young Tiana (the first African American to be the main character in a Disney movie), a waitress struggling to collect money to open a restaurant. Working two shifts, she's the achetype of the hard-worker with high morals and a strong determination. She made me think of Cinderella, but less passive. Her best friend, Charlotte, is her opposite in every possible way: White, rich, blonde with blue eyes. Her father pays for her every needs, however extravagant they may be. Far from humble, she's nonetheless touching in her naïveness, and also because even though she's self-centered, she has a big heart.
When handsome, lazy and good-for-nothing Prince Naveen comes to New Orleans, Charlotte tries to seduce him to live her fairytale with Prince Charming. However, this young man falls into the trap of evil Facilier, a voodoo charlatan
who pretends to have the means to give him and his assistant anything they want.
Naveen gets turned into a talking frog, and his aspiring assistant changes into Naveen's body.
Frog Naveen is told that a kiss from a Princess will turn him back to normal, and when he crosses Tiana, dressed in one of Charlotte's gowns for a big fancy party, he advocates his case. Tiana accepts to give him one kiss, but instead to Naveen becoming humain again, she becomes a frog as well...
This movie was captivating (no overlong passages, good music, good jokes...) and, for one hour and a half, I went back to my childhood self. Go for it!