December 17 2009
5
17
/

12
/

December
/

2009
20:01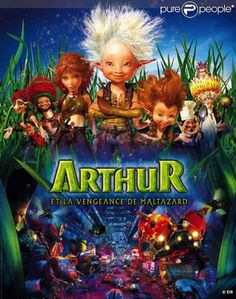 Having adored the 1st episode of Luc Besson's Arthur series, I was much eager to see the sequel to Arthur and the Invisibles.

It began really well, with good jokes, good acting, good story, good music, a perfect imaginary world... the spirit of the first movie was really present and I was glad.

But the movie ends on such a terrible cliffhanger that when the credits came all I could think was "one hour and a half for this?!", a thought that came with a strong wish to strangle Mr Besson. I know it's a movie for kids, and that 3 hrs for a film is too long for the young public it was made for, but still. I feel like I've been made a fool.

I'd advise anyone who liked Arthur and the Invisibles to wait a year before watching Arthur and the Revenge of Maltazard. This way, you'll all be able to see the end of the trilogy, Arthur and the War of Two Worlds. That way, you won't be disappointed.