January 29 2012
1
29
/

01
/

January
/

2012
20:31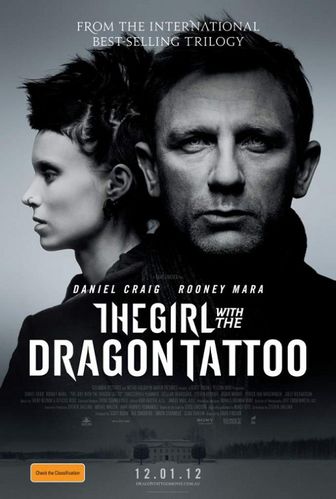 OK, let's be completely honest here. The only reason I went to see the US film version of the first installment of Millenium, The Girl With The Dragon Tattoo, was to destroy the cast and crew here on my blog, insult each and everyone of them and claim the film is just BS.
Because I'm such a purist when it comes to fiction, I wouldn't have stood some diluted, bubble-gummed version of such a dark, dark story, that rang so true both in the books and in the Swedish films.
Well, as it seldom happens, I've been proven wrong. The film is surprisingly good, dark enough, and details are here: it does seem to have been directed in Sweden, all newspapers and pieces in the décor are in Swedish, and most characters have a Eastern Europe accent (quite appreciable). The cast fit the characters better than I would have thought, especially Rooney Mara as Lisbeth Salander, even though two hours in I still couldn't get past the dyed eyebrows, but that's just a detail and sometimes even I have to make compromises.

Besides, the film almost respects the book from the first to the last page.
SPOILERS BELOW
"Almost", indeed, as somehow, for some completely unfathomable reason, Australia has become London (WTH?) and the 1950's sign if Elvis became a leather jacket, but, well, apart from that most of the film was true to the book. In truth I read the book two years ago or so, so my memory's kind of fuzzy, but nothing, apart from Australia and the jacket, shocked me.
END OF SPOILERS
This is (truly) the good stuff, and I'm a very, very exigent person when it comes to book adaptations.